Down With The Grain
I've always been interested in working with wood but haven't really had the means to mess with it in a while, living in a small urban apartment and all.  However I finally decided "So what?"  All you need is a few saws and clamps, and with enough patients and a little improvisation, it doesn't necessarily matter what kind of workshop you have.  I decided to try my hand at some dovetailing, and in the mean time create something practical.
A few years ago I bought an old wooden trunk that I discovered to be from the 1890s.  It has ledges for a removeable tray, but the tray was long since missing.  Over the last month or so I've been building a new tray for it. 
My coffee table was the only work surface I have.  It sure did make a mess, but nothing a good vacuuming and perhaps a Stain Marker won't fix.  
I used only hand tools for all the cutting, chiseling, and sanding.  The only time I used a power tool was to get the handles started by drilling a 1" hole with a cordless drill. That allowed me to get the coping saw in there to cut out the openings for the handles.  
Here's all the pieces laid out.  Since all the cuts were done by hand and eye, I did have to do quite a bit of test fitting and trial-and-error filing/chiseling to get some things to line up perfectly. 
Beginning assembly, I used a rubber mallet to fit together all the pieces.  Some slid together easier than others, so I used a bit of wood glue to make sure things don't come apart.
A little rough around the edges, but everything fits together like a puzzle.  At least the imperfections help make it look old, like the trunk…
I tested a variety of Minwax stains, and "English Chestnut" ended up being the winner on this particular slab of pine.  Initially I was disappointed how poorly the pine seemed to evenly absorb the stain, even after 10 minutes of soaking, but I was much happier once I got it in the trunk and noticed how aged it made it look.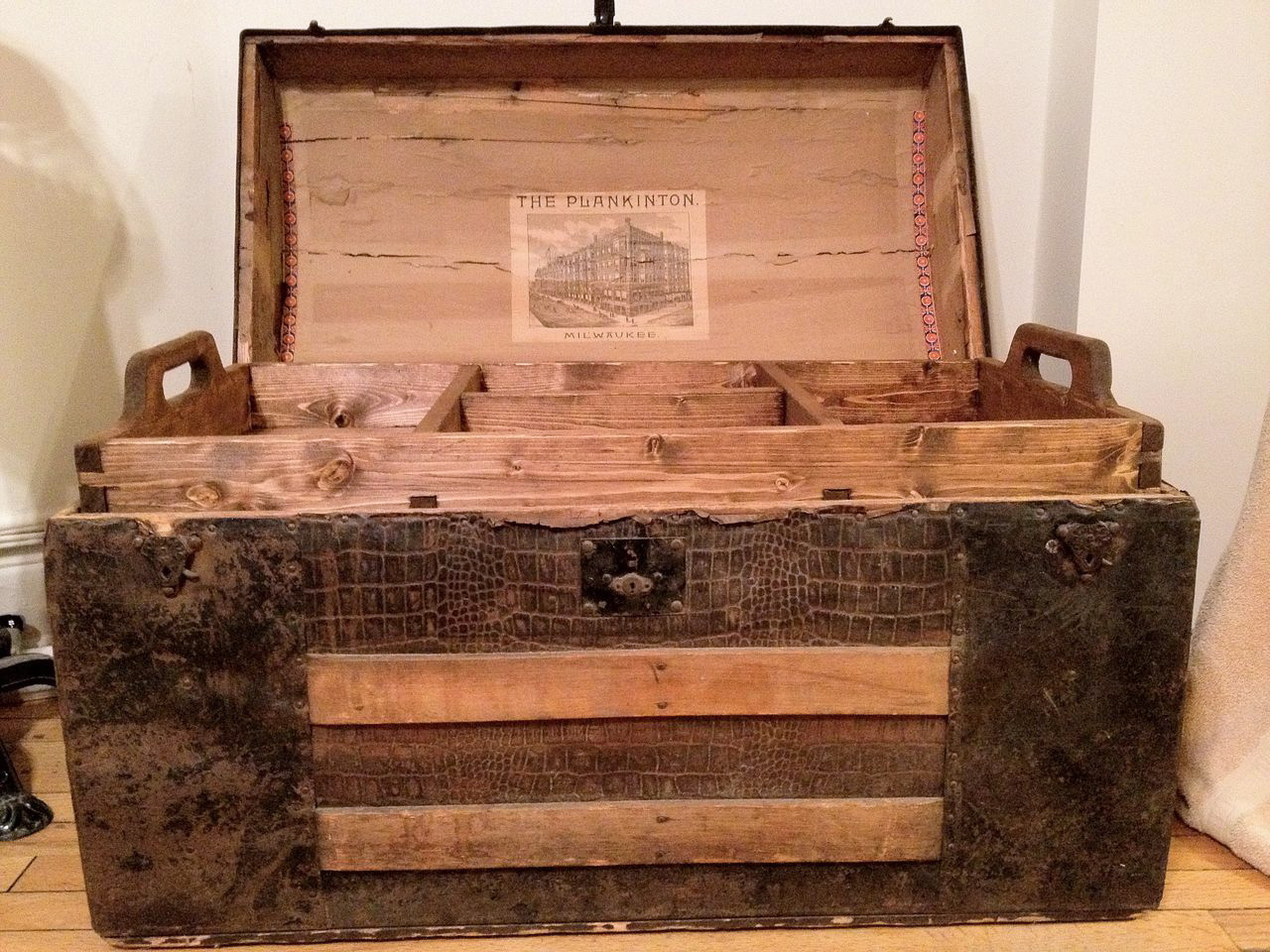 For now it holds some gaming controllers…
For some additional photos of the build process, check out the full album here, or for more information on the trunk it's self you can read my old blog post about it here.
January 16, 2013, 11:46pm